Description
Xotic Effects Custom Shop ROBOTALK RI – Reissue Envelope Filter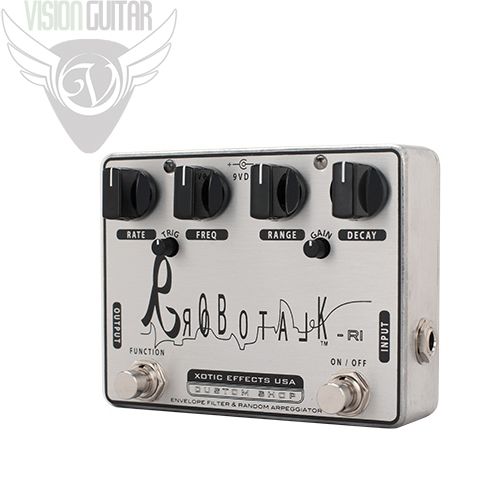 The Xotic Effects Custom Shop has re-engineered and revitalized the original Robotalk. Now in a compact size, we've improved its unique envelope filter tone. But we've also enhanced the arppegiator with more wonderfully strange and mesmerizing sounds.
True bypass for eliminating any signal interference when switched off. Can be used with AC adaptor (optional) or 9V Battery.
Robotalk RI Features:
INPUT JACK: Connect instruments. Nominal input -20dBu.
OUTPUT JACK: Connects to amp.
ON/OFF SWITCH: Turns on/off the unit. True bypass for no tone loss.
STATUS LED: The LED lights up when the unit is turned on.
RANGE KNOB: Controls the sensitivity of envelope filter reacts by the input signal.
DECAY KNOB: Controls the length of decay time of envelope and the start frequencies.
GAIN KNOB: Boosts the output signal up to +15dB.
FUNCTION SWITCH: Switches between Envelope Filter and Random Arpeggiator.
TEMPO LED: Flashes at the tempo that is determined by the RATE knob.
RATE KNOB: Controls the tempo of arpeggiator.
FREQ. KNOB: Controls the center frequency of arpeggiator.
TRIG KNOB: Controls the intensity of arpeggiator.
DC JACK: 2.1mm x 5.5mm barrel plug / 9VDC negative center. Use only regulated power supply.
Condition: This unit is brand new, fresh from the factory. You're purchasing from an authorized Xotic Effects dealer.