Description
TC Electronic T2 Reverb – 10 Exclusive Gorgeous Reverb Types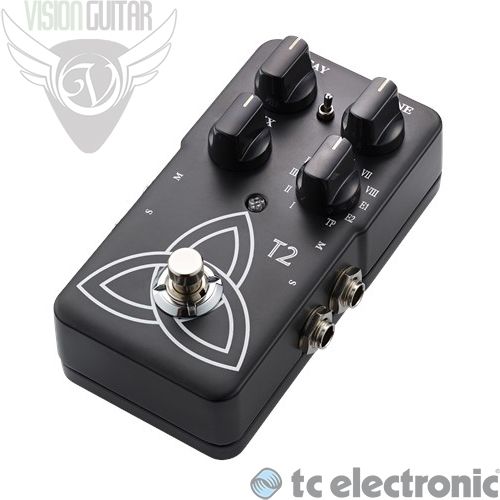 T2 is your new one stop portal to reverb heaven! Containing reverbs as lush and deep as the Grand Canyon and as hauntingly beautiful as the Aurora Borealis, T2 is a true testimony to the love of reverberating tones. T2 takes everything that made the original Trinity Reverb such a success and adds a plethora of new sounds, making this a must-have for every reverb aficionado out there!
With T2 you get 10 exclusive rocking reverbs perfectly handcrafted by people that live and breathe reverb tone on a daily basis. These sounds are designed to take you from a tiny reverberating room on planet earth and then skyrocket you into outer space, with otherworldly tones that are sure to propel your creativity into the stratosphere!
Each custom tone has been carefully made with the ambient guitarist in mind, and seeks to push the boundaries for how modern reverbs should sound. So be prepared to disappear into a lush sea of resonating tones, with endless decay for days and beautiful swirls of modulation. Why stay confined to conventions when you can aim for the sky?
HyperGravity Compressor Features:
State-of-the-art Multiband Noise Gate
Hard-Gate mode for instant noise removal
TonePrint – for a world of signature and customizable effects
Send/Return Loop
True Bypass
Compact design
9V/100mA
High quality components
Road-ready construction
Condition: This unit is brand new, fresh from the factory. You're purchasing from an authorized TC Electronic dealer.