Description
TC Electronic G-System – Total Effects, Total Control, Total Programability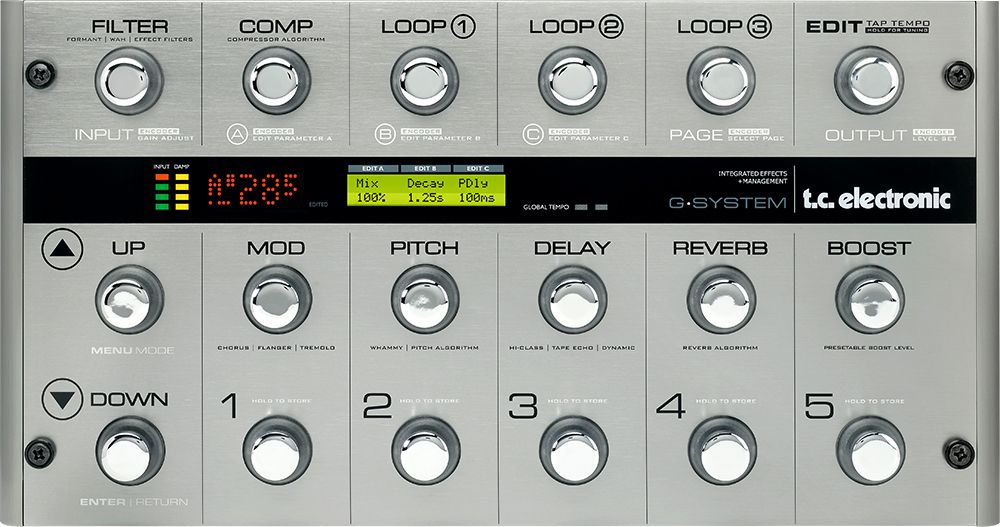 G-System is a masterpiece. It asks: what if a guitarist could have it all? And then delivers in a package almost too good to be true. The best of the best effects, complete integration and optimization of your gear and total control over your effects and sounds pedal board. And, the added Massimo Mantovani mod essentially optimises the input-design and upgrades a number of components, which results in a super-transparent tone with a very snappy response, added punch and optimal tonal transparency.
G-System offers a complete range of guitar effects, but what makes them so different is their sound. We poured all our knowledge but also our hearts and love for music into these sounds and it shows – dual DSP full 96 KHZ / 24 bit conversion and processing meets tone that just raises the hairs on your arm right of the bat.
How you play is unique and your challenges are different from any other guitarist. That is why we made G-System like a ball of clay: completely moldable to what you need it to be. Custom button lay-out and assignment, multiple actions with one button press, custom effect routing – you name it, and G-System does what you need to sound your best.
G-System has no drive effects. Why? Cos most guitarists have their favourite distortion/overdrive boxes anyway. So Instead of competing with them, we aimed to integrate them seamlessly, and make them part of them system via 4 analog loops and even add 9VDC outputs – life can be so easy.
Features:
TC's best-of-the-best effects right at your feet
Up to 9 effects simultaneously
Fast and smooth preset changes featuring delay spill-overs
4 switchable mono-loops for your favorite effect pedals
1 additional loop/insert point dedicated for preamps
4 x 9V DC outlets powering your effect pedals
USB connection for software updates
Ultimate flexibility as the board can be separated allowing you to place the GFX01 with loops etc. in a 19″ rack while leaving the control board on the floor
MIDI for control of additional external MIDI units
Connections for 2 Expression pedals
Condition: This unit is brand new, fresh from the factory. You're purchasing from an authorized TC Electronic dealer.