Description
Roger Mayer Voodoo Vibe +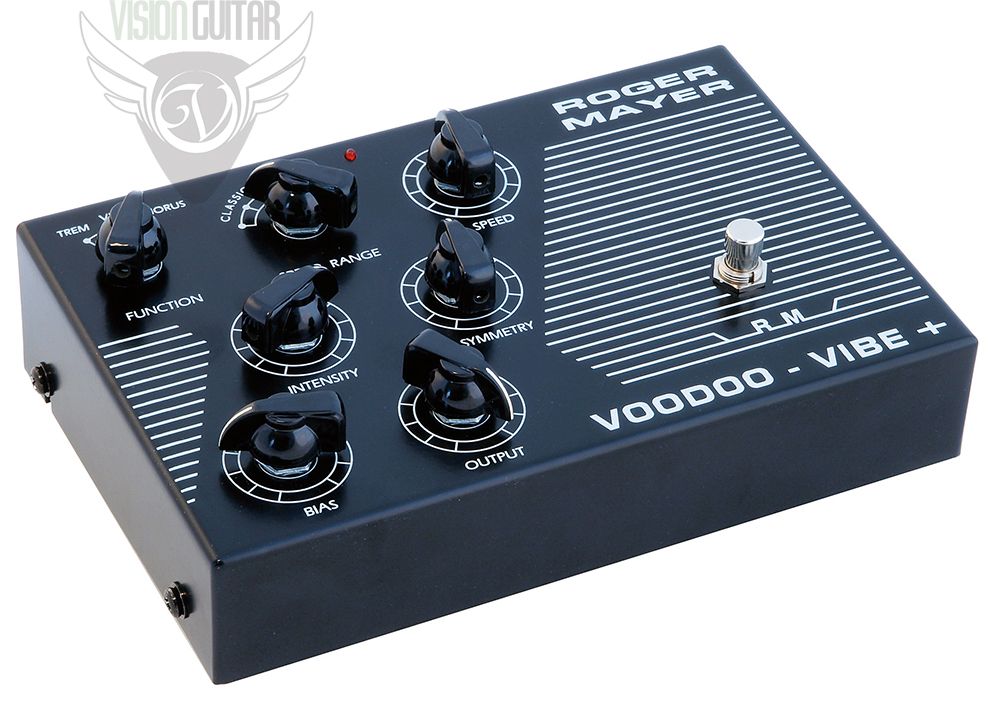 The Voodoo-Vibe+ is the latest evolution of the Univibe as used by Jimi Hendrix and Robin Trower. The Voodoo-Vibe+ will faithfully reproduce all the old retro sounds and incorporates the modifications I personally developed for Jimi. The Supervibe was my next evolution of the Univibe and many leading performers including Stevie Ray Vaughan and Robin Trower used this unit. The Voodoo-Vibe followed the Supervibe and is accepted as the industry leader and used by many top performers. The Voodoo-Vibe + also has a Tremolo circuit plus the usual Chorus and Vibrato functions and the control of the sound parameters has been greatly expanded. The addition of Pulse Square waveforms to the normal Classic waveforms is a valuable and useful addition to the sweep capabilities. The Speed of the sweep generator has also been expanded together with the Symmetry Range and these features greatly increase the options of producing many new and unheard effects and the Voodoo-Vibe+ is a modern and worthy successor to our very successful Voodoo-Vibe. The art of analogue processing has moved forward.
The Voodoo-Vibe is completely analogue in operation and exhibits a very transparent and full sound quality that is lacking in digital products that simulate chorus and flanging effects The digital zipper noise and graininess is eliminated and the guitar tone is maintained throughout the full dynamic range. Class A discrete circuitry is used in all audio stages and results in ultra high audio quality and very low noise. The signal to noise ratio of the unit is 102dB, which is about 12dB better than a CD. Extensive internal power supply filtering is used so that the low noise performance is maintained when using even the most basic commercial mains adapter or battery eliminator.
Condition: This unit is brand new, fresh from the factory. Vision Guitar is an authorized Roger Mayer dealer.