Description
Origin Effects SlideRig Limiting Amplifier 1176-Style FET Compressor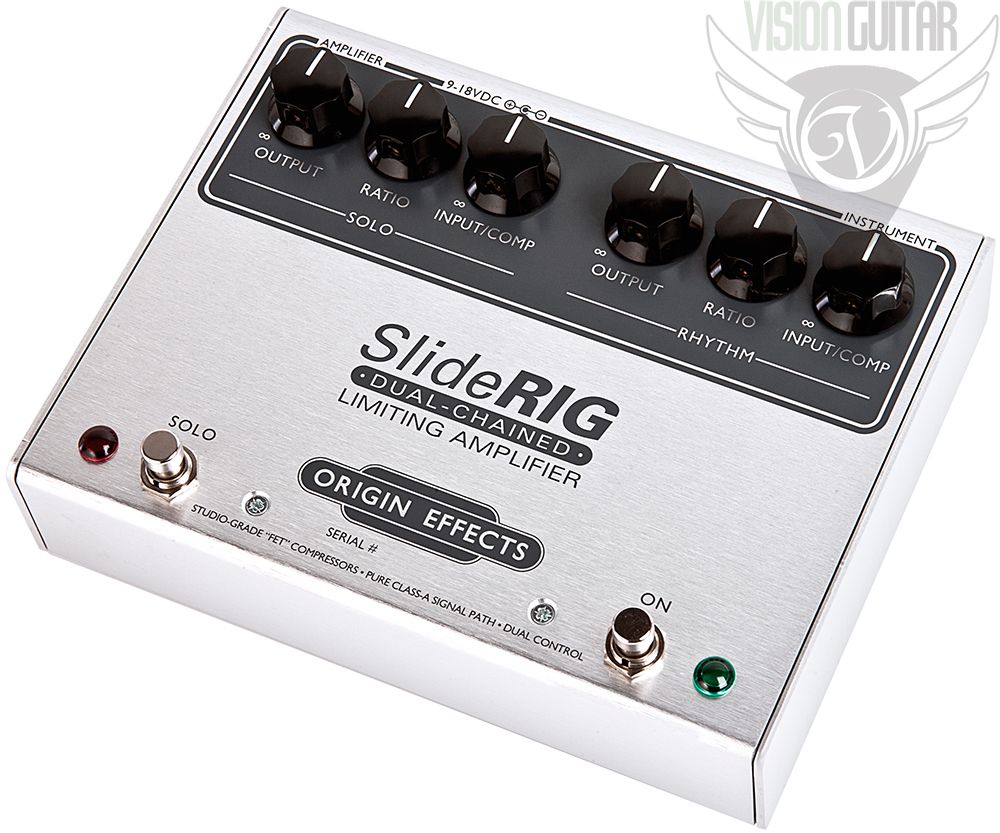 Our goal was to reproduce the slide guitar tones first heard on Little Feat's classic album, "Dixie Chicken". The tone is clean and transparent, with an almost infinite shimmering-sustain. For many this represents the ultimate in slide-tone. In the studio, the Little Feat tone was achieved by daisy-chain-connecting two Urei 1176 "FET" compressor channels. The 1176 has a fast response and a unique character. Chaining the compressor sections vastly increases the amount of compression and sustain.
The SlideRIG is a highly specialised guitar compressor. It carefully squeezes and amplifies your guitar signal to create the effect of greatly extended, elongated notes.
The unit contains two chain-connected 1176-style compressor-circuits that process your guitar's signal at all times… Duplicate controls allow the user to switch between two different "patches". Each set of controls simultaneously adjusts the parameters of BOTH compressor blocks, so adjustments can be made with ease!
The SlideRIG delivers more "squash", combined with a transparent tone and lower levels of electronic noise!
Features:
100% Class-A discrete signal path
Chained compressors for more "squash"
Two user-presets
Ultra-fast "FET" response
Internal Attack & Release presets
Studio-grade "discrete" preamplifier
Low noise electronics
Selectable True, or Buffered, Bypass
Traditional Through-Hole PCB
50 hours life from single 9V / PP3 cell
PSU Spec. Min: [email protected] / [email protected] Suggested: 100mA
Condition: These are brand new, fresh from the factory. Vision Guitar is an authorized Origin Effects dealer!