Description
Origin Effects Cali76 FET Compressor Lundahl Transformer (Cali76-TX-L)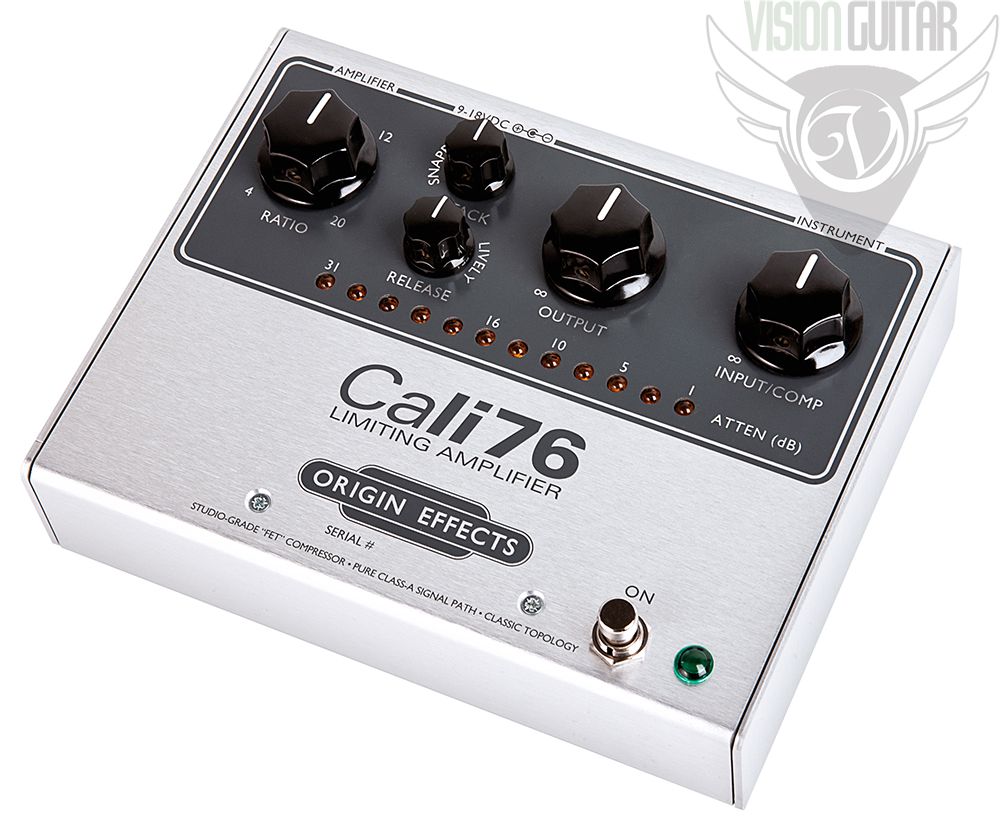 The 1176 is a much loved, premium quality studio compressor and in many ways is the "industry standard" vintage studio compressor. The primary motivation for developing the Cali76, was to bring the sonic properties of this revered studio-classic into the scope of the average guitar-geek. After all, why should high quality compression be confined to the recording studio?
Secondly, existing guitar compressors are generally mediocre performers, and renowned "Tone Killers", adding hiss, whilst simultaneously robbing your signal of its soul! The Cali76 offers studio compression in a pedal, or desk-top format… Compared to existing guitar compressors the Cali76 represents a high-fidelity, low noise solution with no signal degradation…
The topology of the design was kept true to the original, whilst the actual circuitry was carefully condensed. In this way it has been possible to retain the much loved dynamic response of the original, whilst at the same time permitting a smaller, more stage friendly format! We've slightly tweaked the attack and release times to be of immediate use to guitarists and bass players, as well as in pro-audio applications. Plug it into your recording rig to process vocals, piano, acoustic guitars and drums, with a vintage, analogue warmth!
Compression Features:
100% Class-A discrete signal path
Ultra fast "FET" response
Attack & Release controls
Studio-grade "discrete" preamplifier
Rugged VU-style meter
Low noise electronics
Transformer Specific Features:
This unit comes equipped with the ultra-transparent, studio grade Lundahl transformer from Sweden
Class-A discrete output-amplifier driving transformer
Dual, low-impedance outputs (via audio transformer)
Unbalanced instrument-level output
Balanced Line-DI output
Ground-lift function to eliminate ground induced hum
Gain-switch adjusts transformer saturation
Auto-Shutdown – preserves battery operation
PSU Spec. Min: 13mA @ 9V / 72mA @ 18V
Suggested PSU Rating: 200mA for optimum start-up
Condition: These are brand new, fresh from the factory. Vision Guitar is an authorized Origin Effects dealer!