Description
Retro-Sonic Stereo Chorus – Limited Run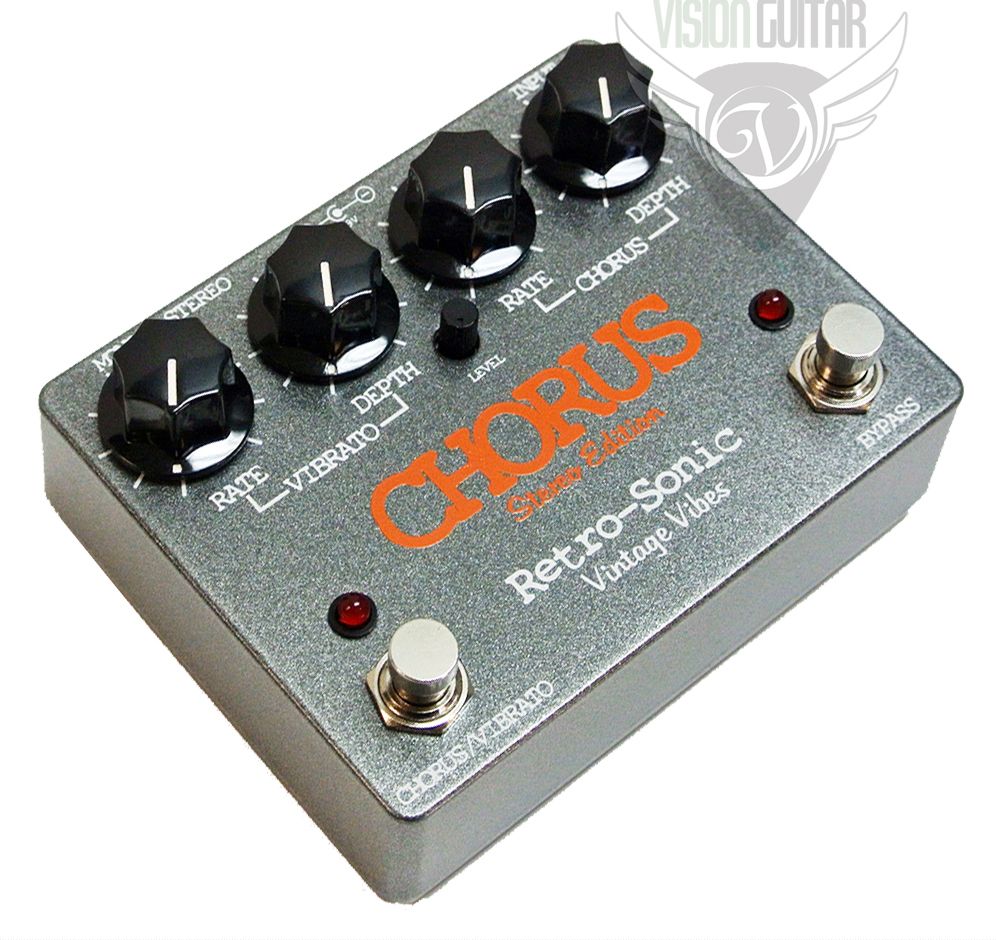 Distinctive lush chorus, amazing vibrato, the Retro-Sonic Chorus Ensemble is the only true reproduction of the 1976 CE-1 using the original analog BBD. Its lush, focused tone is the standard by which all other chorus effects are measured. The Chorus Ensemble is capable of a wide range of sounds from analog chorusing to pulsating vibrato, having the unique Vibrato feature that was incorporated on the original which simulates a Leslie rotating speaker. The chorus and vibrato functions are selectable through a footswitch control, allowing desired presets to be maintained by separate control. The Mono an Stereo outputs allow for a two amp setup for an amazing chorus experience The unit features hi grade components, true bypass, and now powered by 9VDC, (thanks to a custom power chip) there's no need for a special adapter, just plug into your existing rig and enjoy!
Based on customer demand, the improved Chorus pedal now has stereo outputs and operates from standard 9VDC power supplies. The additional stereo output provides users the option of a two-amp setup. This brings a heightened dimension to the existing thick sound of the Chorus effect pedal, which has already developed a loyal following throughout North America and Europe.
"The GRAIL…ANY guitar player out there knows that the coolest Chorus pedal that has ever been created was the Rolland CE1! ….. and THIS IS IT NOW…in a 9 volt power pedal (shrunken down)… Really, Really hip…this is just about the coolest thing I've ever had my hands on… we've got crew guys that have stopped dead in their tracks whenever I play this thing during sound checks… The Chorus Vibrato is TREMENDOUS.."
Brian Nutter, guitarist, Keith Urban Band
Condition: This unit is brand new, fresh from the factory. You're purchasing from an authorized Retro-Sonic Effects dealer.