Description
Milkman Sound 30W Dairy Air Head & Cabinet – Blonde Tolex & Oxblood Front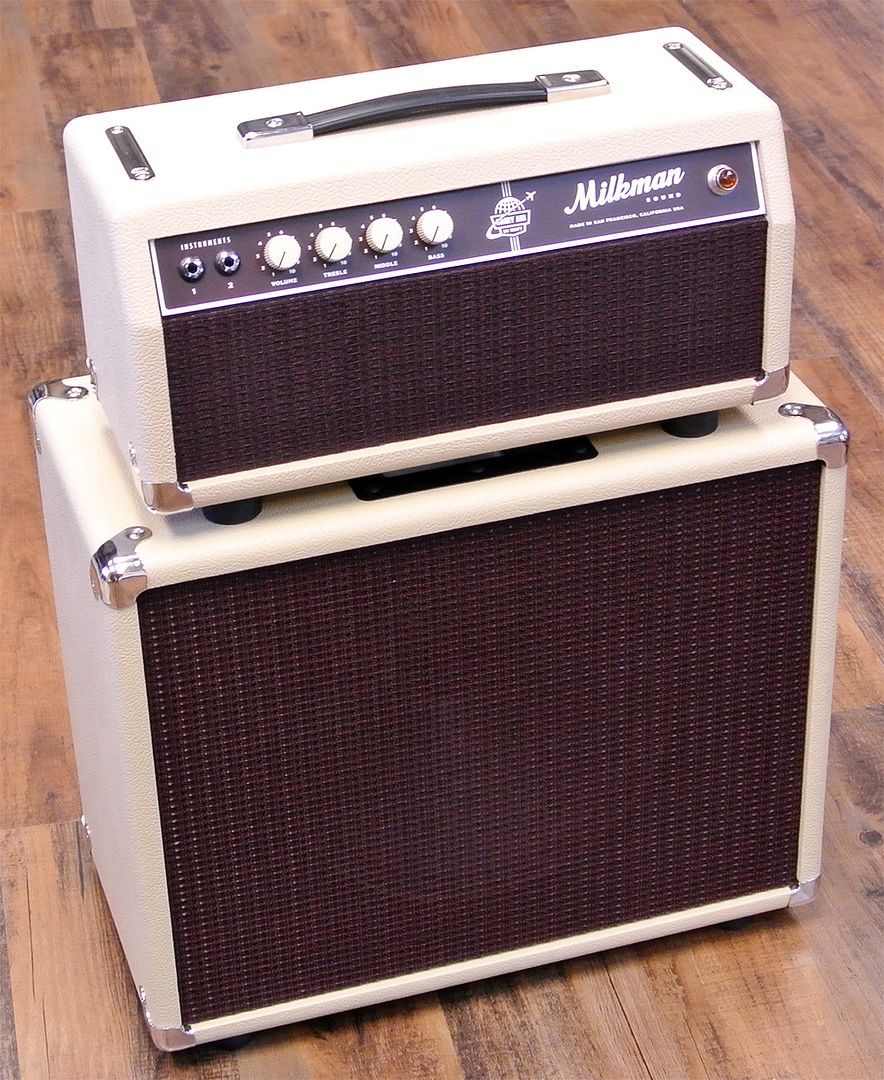 The 30 watt Dairy Air was designed to be portable, versatile, and extremely simple. There is no reverb or tremolo option, which means I was able to fit a lot of power into a very small head cabinet. The idea is that if you travel by air, you can take this amplifier with you and use any speaker. Need a backline amp but don't like the tone? Take the lead from the internal speaker and plug it into your 30W head. Done. Take your tone with you!
The Dairy Air is built with the same high quality components as every other Milkman amplifier: Mercury Magnetics, Jupiter Capacitors, Carbon Composition Resistors – its all in there! I designed a custom aluminum chassis in order to make sure I could fit in all the best components. Every point is wired by hand, onto a custom made turret board, with cloth covered wire. Building an amp this way makes it very hard to damage, and very easy to service – you could bungee this thing to the outside of the airplane and still make your gig. (note: don't try that)
The Dairy Air has a matching speaker cabinet option, and it is available in any custom shop finish. The speaker cabinet is made out of pine, and is very light on its own. Even if you are not traveling by air, you will be traveling very light with this setup.
The Dairy Air head is available for purchase separately if need be, contact us for for details.
30w Dairy Air Features:
Custom Blonde Tolex with Oxblood Front
Jupiter Alnico Speaker Upgrade
40W Class AB with 6L6
Choke Filtered
Mercury Magnetics
Jupiter Capacitors
NOS Allen Bradley Resistors Throughout
Turret Board Construction
Head Dimension & Weight: 16-1/2″ W x 8″ H x 7-1/2″ D 15lbs
Cabinet Dimension & Weight: 19-7/8″ W x 17″ H x 10-1/2″ D 23lbs
Condition: This unit is brand new fresh from the factory. Vision Guitar is an authorized Milkman dealer!