Description
Fulltone TTE Custom Shop Tube Tape Echo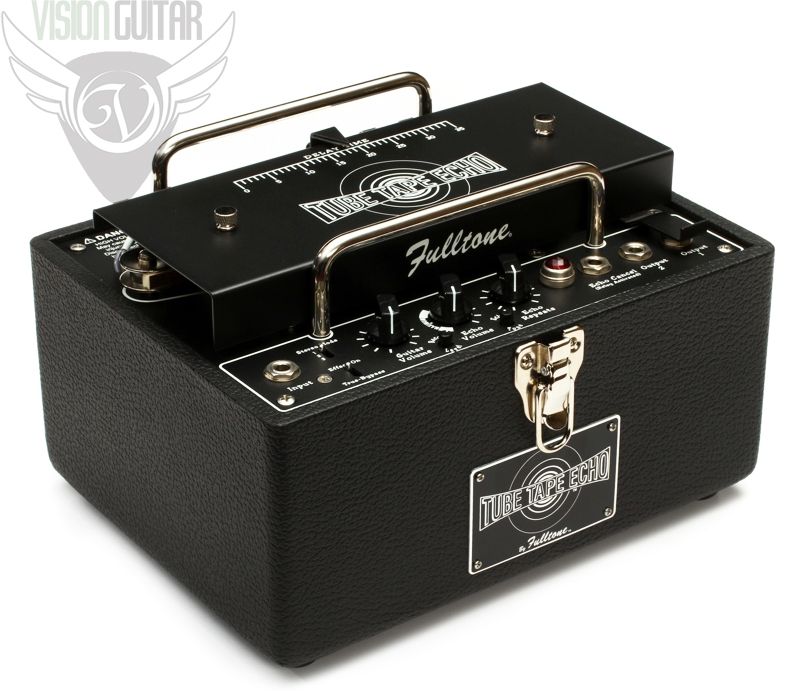 The Fulltone Tube Tape Echo gives you the real deal! No modeling or EQ-curve-and-modulation-based simulation here…this is authentic tape echo, complete with 12AX7 and 12AT7 tubes. The Tube Tape Echo uses an efficent, quiet, and compact DC motor to run its Fulltone ETC-1 tape cartridge for rich, shimmering tape echo in a brand-new unit that's built to last. You get a handwired audio path, plus three stereo modes for great 3D tones onstage or in the studio. If you ever wanted to hear the magic of true tape echo the way it was intended, you've got to hear the Tube Tape Echo!
The pinnacle of echo: If you've ever played through a "healthy" Echoplex tape echo unit, you know that no delay (rackmount or pedal, analog or digital) can replicate its natural, warm, and shimmery tones. The downside? They could be noisy and unreliable. But now the folks at Fulltone come to the rescue with the Tube Tape Echo! It's dead-quiet, and they've completely re-vamped the electronics, the tape transport path, and even the tape cartridge itself! Now you can hit the stage or make tracks with authentic tape echo without fear!
Delay time: The Tube Tape Echo provides effects ranging from a quick slapback to over two seconds of delay. It includes a top panel-mounted dual speed toggle switch to choose between Hi-Speed and Lo-Speed operation. Hi-Speed gets you lots of highs, less bass, and a True Repeat without the pitch variation of the old Echoplex. Lo-Speed is warm, with lots of bass, less highs, and a slight "warble" that imparts a natural chorus effect made popular by artists such as Eric Johnson.
Tubes sound better: Fulltone uses real 12AX7 tubes for the Tube Tape Echo's Record and Playback functions (plus a 12AT7 in the Erase/Bias section), not to mention a handwired audio path. Why? Because it sounds better, and you'll know the difference immediately. The motors are different, too: you won't find those big, noisy AC units of yesteryear in this model; the servo-controlled high-torque DC motor used in the Tube Tape Echo is far more stable, plus, it's only one-fourth the size! Add proprietary tape heads for stellar sound quality, a Fulltone ETC-1 tape cartridge (made to last!), and a selection of three Stereo Out modes, and you've got yourself a modern classic echo unit!
Features:
1 x 12AX7 Tube for Record, 1 x 12AX7 for Playback, 1 x 12Au7 for the erase section
Mono and stereo outputs with three distinct stereo image choices
DC on the tube filaments for no-hum operation
Torroidal transformer for low EMF, quiet operation
Brushless/3 phase DC servo motor for reliable, quiet tape transport
Blushless DC fan to keep the whole thing running cool
Nickel-plated steel with all stainless-steel hardware, every bolt and spacer
Super-Tough Baltic birch-ply cabinet with blonde Tolex covering
Proprietary erase, record, and playback heads designed for long life
All handwired point-to-point audio pathway
All handmade in the U.S.
2-speed operation (with trimmer adjustment) for a choice between hi-fi or warm vintage sounds
Adjustable tube-powered volume control for up to 25dB volume-boost
Tone control affecting the repeats only
Echo Tape Cartridge (ETC-1) loaded with Mastering quality tape and designed to last many months
True-bypass toggle switch for setting the right volume for your rig
1/4″ jack for "Echo Cancel" allowing you to keep the TTE's tube preamp in the signal path
Condition: This unit is brand new, fresh from the factory. Vision Guitar is an authorized Fulltone Custom Shop dealer.