Description
Fulltone MDV-3 Mini DejáVibe 3 Univibe Vibrato Pedal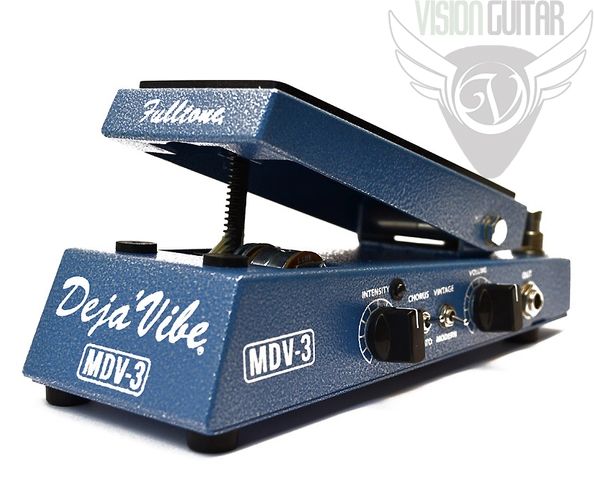 The Fulltone MDV-3 operate exclusively on an 18 volt DC power supply. The Fulltone FPS-3 is the best transformer you can get, and is included. (USA, Canada, and Japan only) The Fulltone FPS-3 is "regulated" which means it produces exactly 18 volts, keeping the internal bulb at the correct brightness. Do not use "switched-mode" power supplies which comprise 95% of what's currently available on the market. "Switched-mode" supplies inject noise in certain frequencies in audio effects. I strongly recommend only using Class2 type adapters! You can buy our FPS-3 direct from us, it is also fantastic when used on the OCD, FD3, FD2, GT500, FatBoost, 2B, PlimSoul, and SecretFreq.
Real Estate is precious, especially on your pedalboard, but the lush organic sounds of a perfect "authentic vintage Univibe clone" are a necessity, and they are now attainable in a space now smaller than a standard wah wah pedal… the Mini-Deja'Vibe3, MDV-3 for short. With a Hammertone Blue powder coated finish, White lettering, and a Blue LED that throbs to the beat of the pedal's hypnotic, asymmetrical rhythm. The MDV-3 has a new heel or toe activated True-Bypass footswitch that is perfect for the person who rarely changes speeds and just wants to turn it on or off with his toe, but also perfect for the person who rides it like a Gas-pedal and wants to turn the pedal on/off with a simple flick of the heel (see the MDV-3 video at youtube.com/fulltoneeffects)
There are a LOT of pedals claiming to be "authentic vintage Univibe clones" on the market….all of the small ones are merely a glorified MXR phaser with a few changes. That's not a Univibe! So how is one to know which pedals are real and which ones are just a cheap shortcut circuit that will satisfy you only until you get a chance to play pedal like the Fulltone MDV & MDV-3, both of which sport a "100% real vintage circuit."
A real Univibe clone will have:
4 x glass covered/hermetically-sealed photocells and an incandescent bulb on the circuit board. I go one step further…and NO ONE else does this, I took many real 1960's 'cells and had them cloned for not only dark/bright resistance, but also cloned the all-important rise and fall times of the cells as they react to the light turning on and off. Nobody else even knows about this, let alone bothers with it. They just buy whatever off-the-shelf photocells they can get, oblivious to these specs. Yes, even those forum-worshipped wait-list builders.
Run at 18+ volts.
Totally discrete electronics, i.e. NO OPAMPS in the audio path! I go even further by only using New Old Stock (N.O.S) Panasonic Matsushita 2SC828 transistors for all stages, and the same metal-can 2SC539 transistor as original Univibes had for the preamp… this really makes a difference in the sound! You think those are cheap or easy to find?
Condition: This unit is brand new, fresh from the factory. Vision Guitar is an authorized Fulltone Custom Shop dealer.