Description
Free The Tone TRI AVATAR Multi-Dimensional Chorus Pedal TA-1H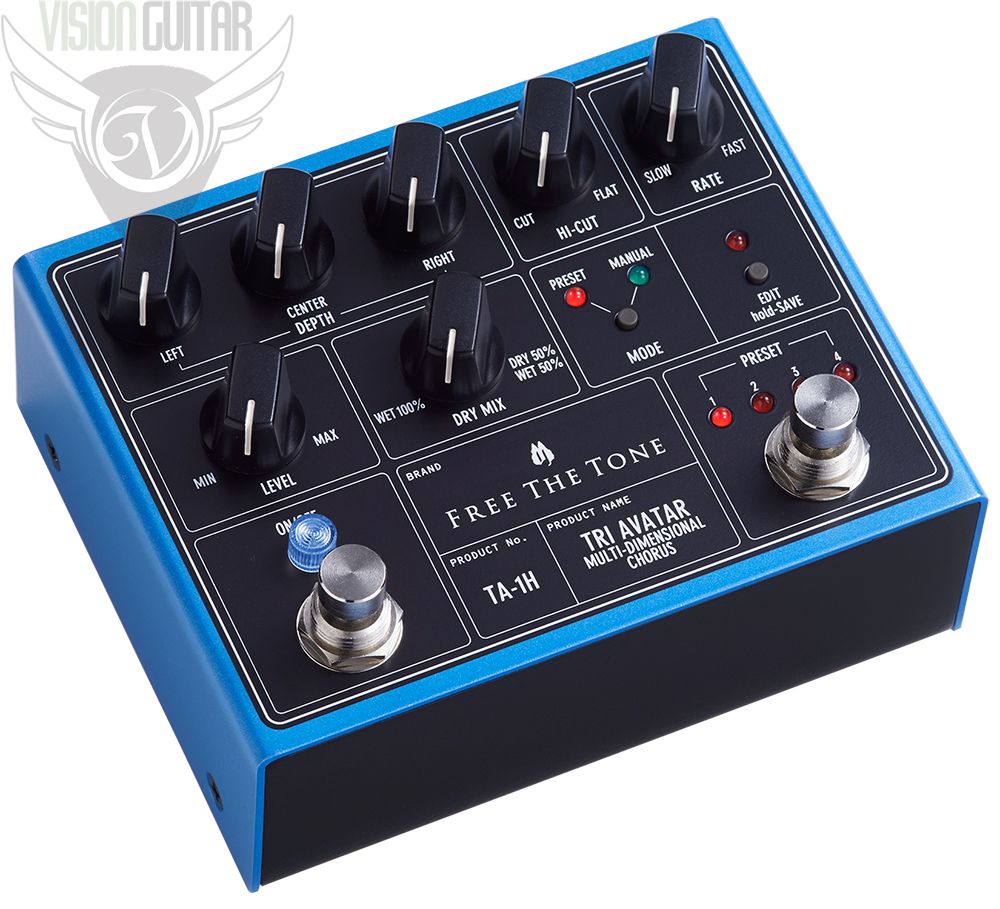 The Free The Tone TA-1H "TRI AVATAR" is a next generation chorus pedal with four signal paths for three chorus sounds (three phases) and one dry signal. In stereo operation the first phase of chorus sound is assigned to the L side, the second phase to the L+R sides, and the third phase to the R side. In monaural operation all of the three phases are mixed together. By mixing three independent chorus sounds the TRI AVATAR adds more width and depth to its output and the result exceeds that which can be achieved by conventional stereo chorus pedals. Problems with usual chorus units such as unintentional pitch changes, sound images with blurred lower end, and noises relating to sweep timing have been solved by combining Free The Tone's analog and digital technologies and with its unique know-how. The result is our completely new chorus pedal that will amaze its users with the various incredible sounds that can be created by a single chorus pedal. Try it and experience the TRI AVATAR's potential that goes beyond the concepts of conventional chorus pedals!
Features
Three independent pitch-modulation signal paths and one dry signal path for mixing in the analog domain.
A widening effect characteristic of three-phase choruses is attained by 120˚ shifting of the phase in each signal modulation path.
Supports both stereo and monaural operation. In monaural operation, all of signals from the three modulation paths are mixed, enabling diverse sound creation.
Next generation chorus sound with minimum noise has been attained by adopting 24-bit AD/DA converters and with Free The Tone's original signal processing and algorithms.
Up to four sets of knob settings can be stored as presets. These four presets can be recalled via MIDI signals
RATE or HI-CUT parameters can be controlled in real-time from an expression pedal plugged into the EXP terminal.
Implemented HTS circuit
Input impedance: min. 500 kΩ
Output load impedance: min. 10 kΩ
Max. Input level: +7dBm
Controls: RATE, HI-CUT, DEPTH L/C/R, DRY MIX, LEVEL
Terminals: 4 x Standard 1/4″ phone jack (IN, OUT/L (mono), OUT/R, EXT), DIN 5-P IN connector (MIDI IN), DC9V input jack (for connecting AC adapter)
Power supply: 9 VDC via dedicated AC adapter (FA-0905D-JA/UK/EU)
Current consumption: max. 140 mA
Dimensions (W x D x H, incl. protuberances such as footswitches, jacks): 120 x 102.3 x 58.5 mm (4.72 x 4.03 x 2.91 inches)
Weight (excl. accessories): approx. 380 g (0.84 lbs)
Accessories: Warranty card, Owner's guide, Dedicated AC adapter, 4 x rubber feet
Condition: This unit is brand new, fresh from the factory. Vision Guitar is an authorized Free The Tone dealer.