Description
Free The Tone Signal Junction Box JB-21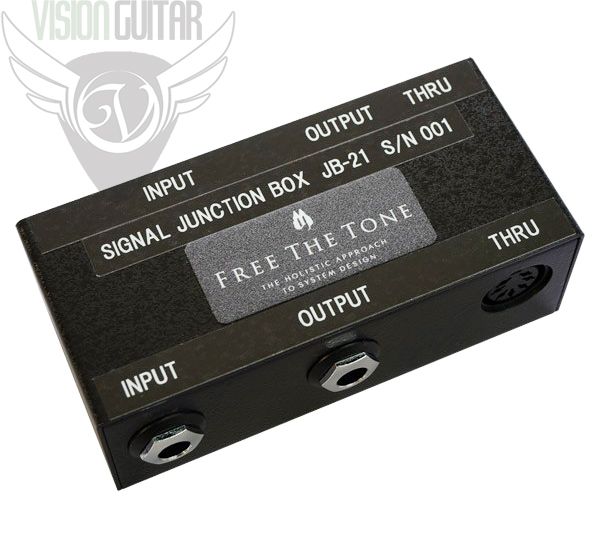 This signal junction box has been made by Free The Tone as a custom product for some time. A great many musicians use this product on their pedal boards or in their racks. To provide highest sound quality and user-friendliness, Free The Tone makes full use of its expertise and know-how gained from its experience of more than 10 years in designing and building custom products.
The JB-21 is a passive type junction box for interfacing two audio signal lines and one digital signal line (DIN 7-Pin connector) such as MIDI or the ARC-3 Link. The JB-21 facilitates wiring within your pedal board or rack and can reduce the time required for setting up.Both the INPUT and OUTPUT jacks are interconnected to the corresponding terminals with the same names and you can use both INPUT jacks on the front/back sides as INPUTs.
Why Are Signal Junction Boxes Required?
Wiring between the devices is simplified and setup time can be shortened.
Damage to cables and plugs can be reduced by using a junction box as an interface rather than connecting cables directly to effectors or similar devices packed in a narrow space within a pedal board.
Features
Terminals: 4 x Standard 1/4″ phone jack (mono), 2 x DIN 7-pin connector
Dimensions (W x D x H, incl. protrusions such as jacks): 100 x 55 x 34 mm
Weight: approx. 210 g
Condition: This unit is brand new, fresh from the factory. Vision Guitar is an authorized Free The Tone dealer.