Description
Free The Tone MIDI Thru Box MB-3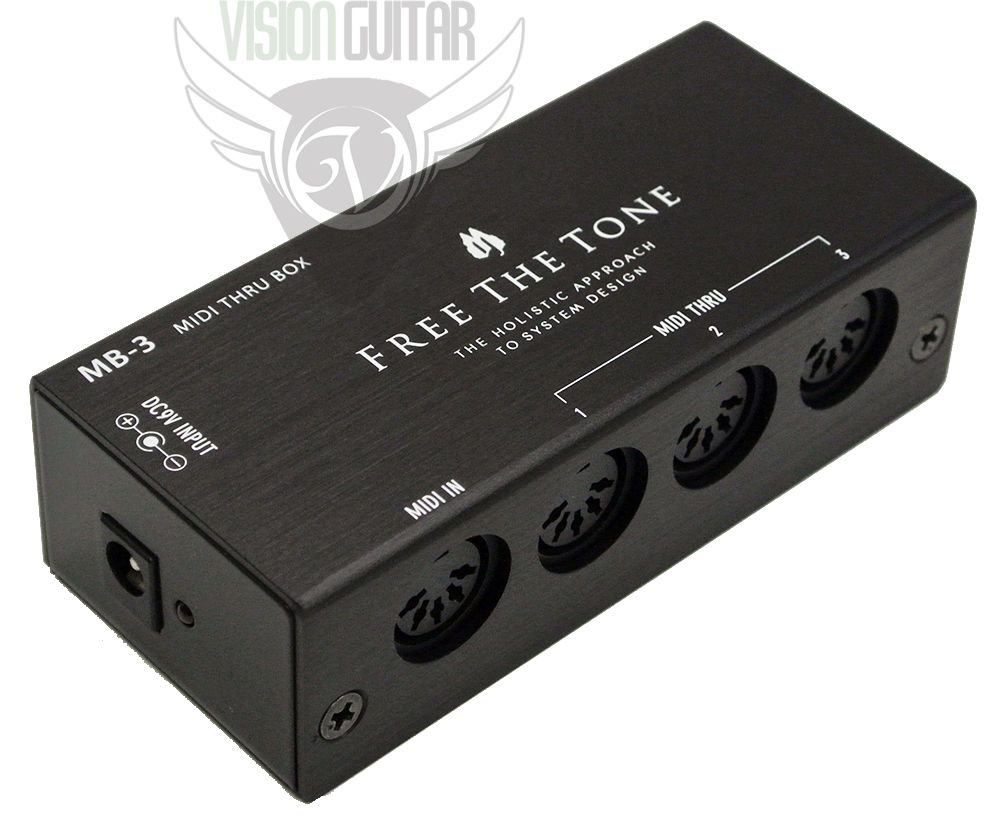 MIDI is common to many guitar/bass devices these days. Here at Free The Tone, we adopt MIDI devices when making almost all of our custom pedal boards and rack systems.
There would be no problem if you have only one MIDI receiving device in your system. However if your system has multiple MIDI devices and if all of the MIDI signal wirings are done in serial, MIDI data transmission requires a certain time and can develop a delay or result in a malfunction. The MB-3 receives one stream of MIDI data and splits it into three to enable parallel data transmission. By receiving MIDI data directly from the MB-3, your devices can avoid various troubles that can occur if it is serially connected. The wave shape of the MIDI signal fed into the MB-3 is corrected by its internal logic circuit, preventing transmission error due to deteriorated data wave shape.
Features
By connecting MIDI data in parallel via the MB-3, you can avoid data delay or malfunction that may occur when multiple MIDI devices are serially connected.
The incoming MIDI signal's waveform is reshaped by going through the logic circuit in the MB-3, preventing transmission error due to deteriorated data wave shape.
All of the DIN jacks that receive MIDI cables are placed on one side to minimize wiring space in a pedal board or rack.
Terminals: DIN 5-pin connector (for MIDI signal) 1 x In, 3 x Out
Power Supply: via dedicated AC adapter (FA-0905D-JA)
Current Consumption: approx. 11 mA / 9 VDC
Dimensions (W x D x H, incl. protrusions such as DC terminal, etc.):
100 x 45 x 30 mm (3.94 x 1.77 x 1.18 in.)
Weight: approx. 110 g (0.24 lbs)
Condition: This unit is brand new, fresh from the factory. Vision Guitar is an authorized Free The Tone dealer.